Why not get creative with your COVID-19 signage?
March 9 in Design, Ideas, Miscellaneous
Non-essential retail and hospitality is scheduled to reopen in April, coming as a relief to business owners who have been shuttered since the end of December 2020. This welcome return is accompanied by the now-familiar rules and guidelines for the safe operation.
For businesses, it's important that these guidelines are acknowledged, followed, and communicated to customers. In fact, from 28th September 2020, it became a legal requirement in the UK to 'remind people to wear face coverings where they are required, for instance using signage'.
You might have spotted the standard 'Government issued' QR codes and safety signage around shops, restaurants and other public spaces. However, there's no rule that says you can't get creative with these signs, so long as the message is still clear. In fact, due to the repetitiveness of this message, it may even remind some customers to be more aware of the guidelines if they see it communicated in a more creative way.
Not only that, but you can view creative COVID-19 signage as another way to reinforce your branding. Whether you're a business with a strong brand, or you're developing your brand image, you don't want signage in your establishment that conflicts with or takes away from your identity. Instead, get inspired by the below brands, and how they've used safety signage to their advantage.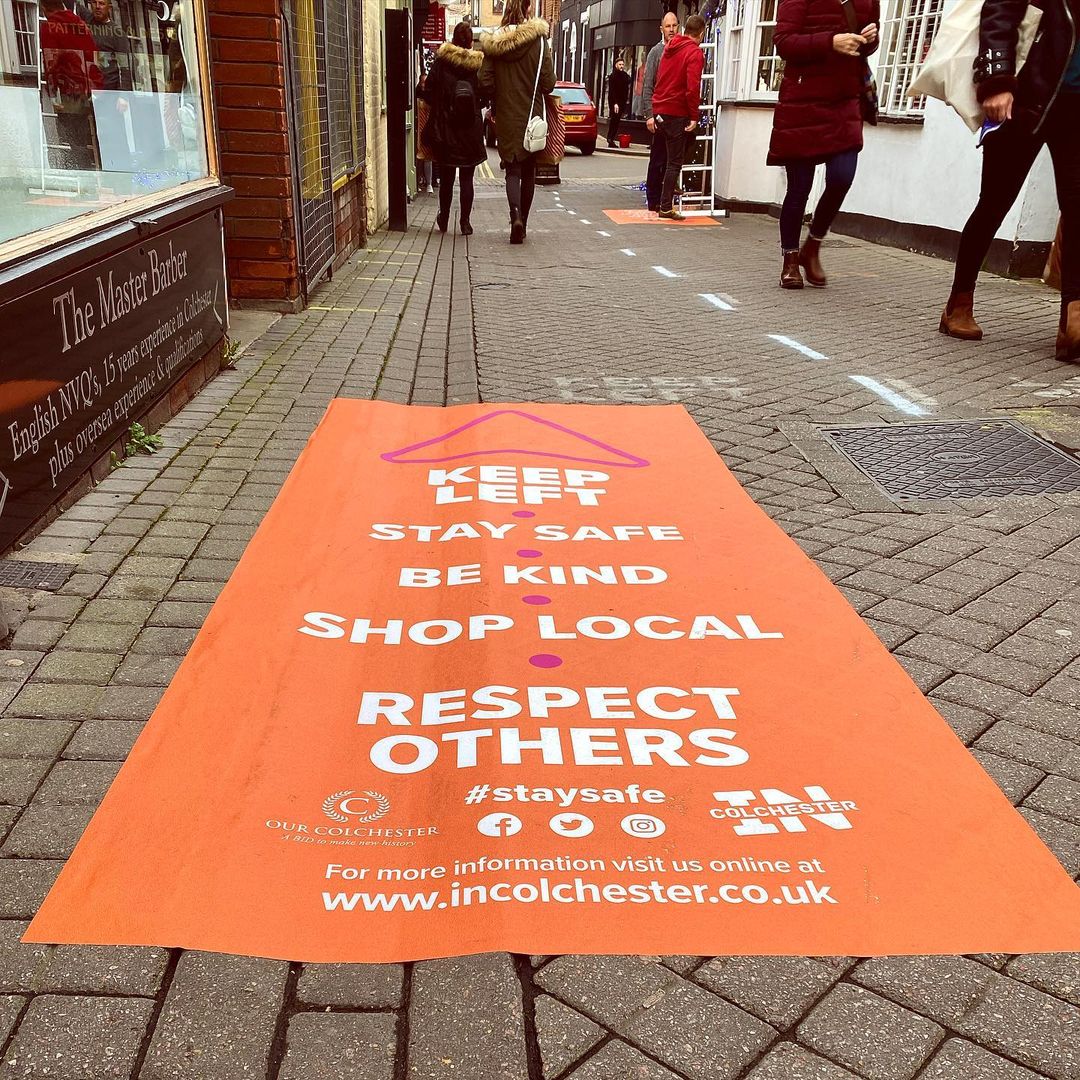 Directional floor signage
In shops, restaurants and even out and about in town and city centres, manipulating foot traffic to follow one direction can help greatly with social distancing. Here, the message has been amplified with the words 'keep left, stay safe, be kind, shop local, respect others'. As shoppers are walking up the path, they also see a hashtag, social media icons and the URL for the town's official website.

With a sticker this large, there is plenty of information that you can put across to potential consumers while they are browsing.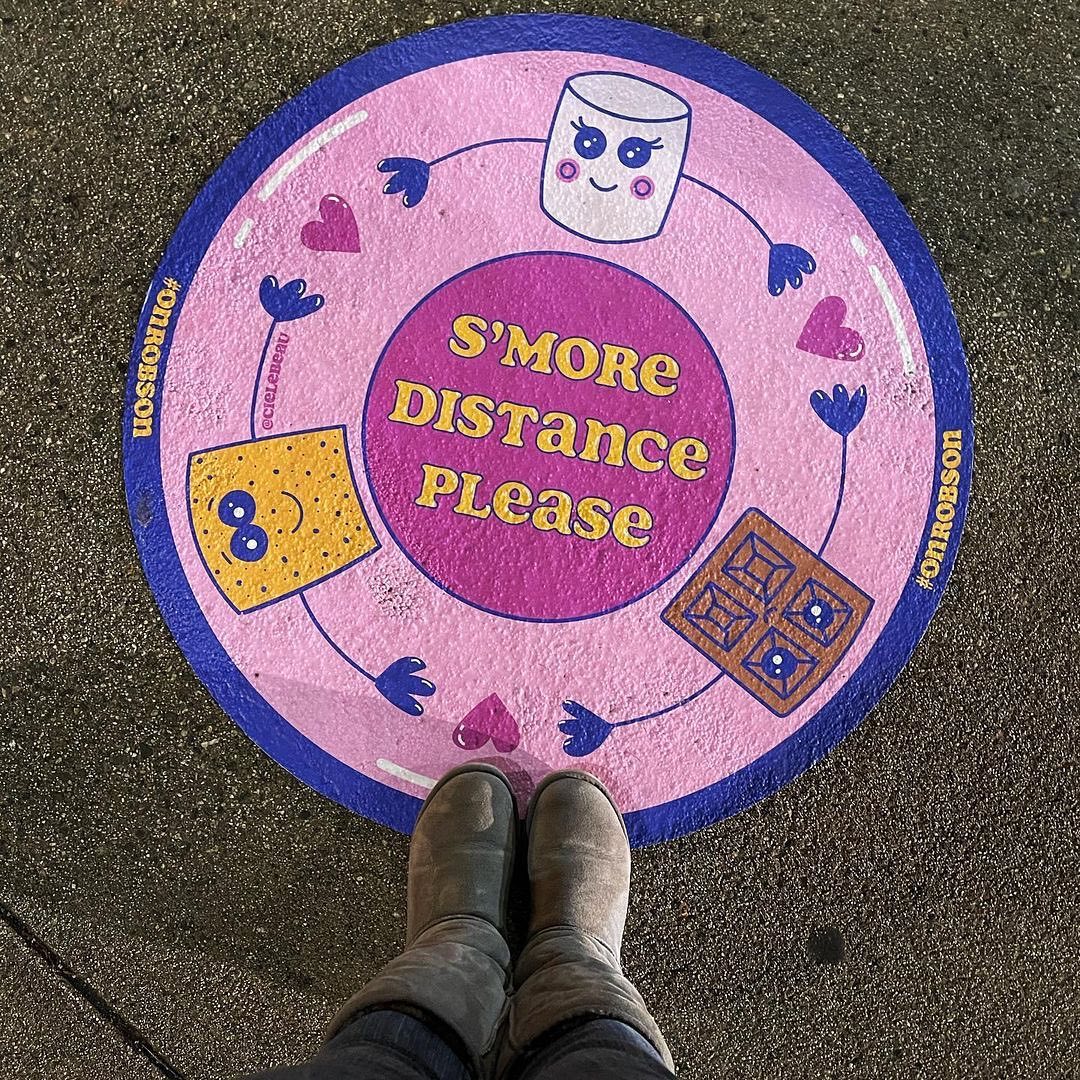 Queue markers
If patrons queue in your establishment, it can be easy for them to forget just how much the recommended two-metre distance is. Queue markers not only help visitors keep their distance while queueing, they also help to mark out where the queue should be. This prevents those queueing getting in the way of other customers who may be browsing.

This queue marker features an illustration of a deconstructed s'more to represent the company's products, while the text reads 's'more distance please' as a play on words that also reflects branding.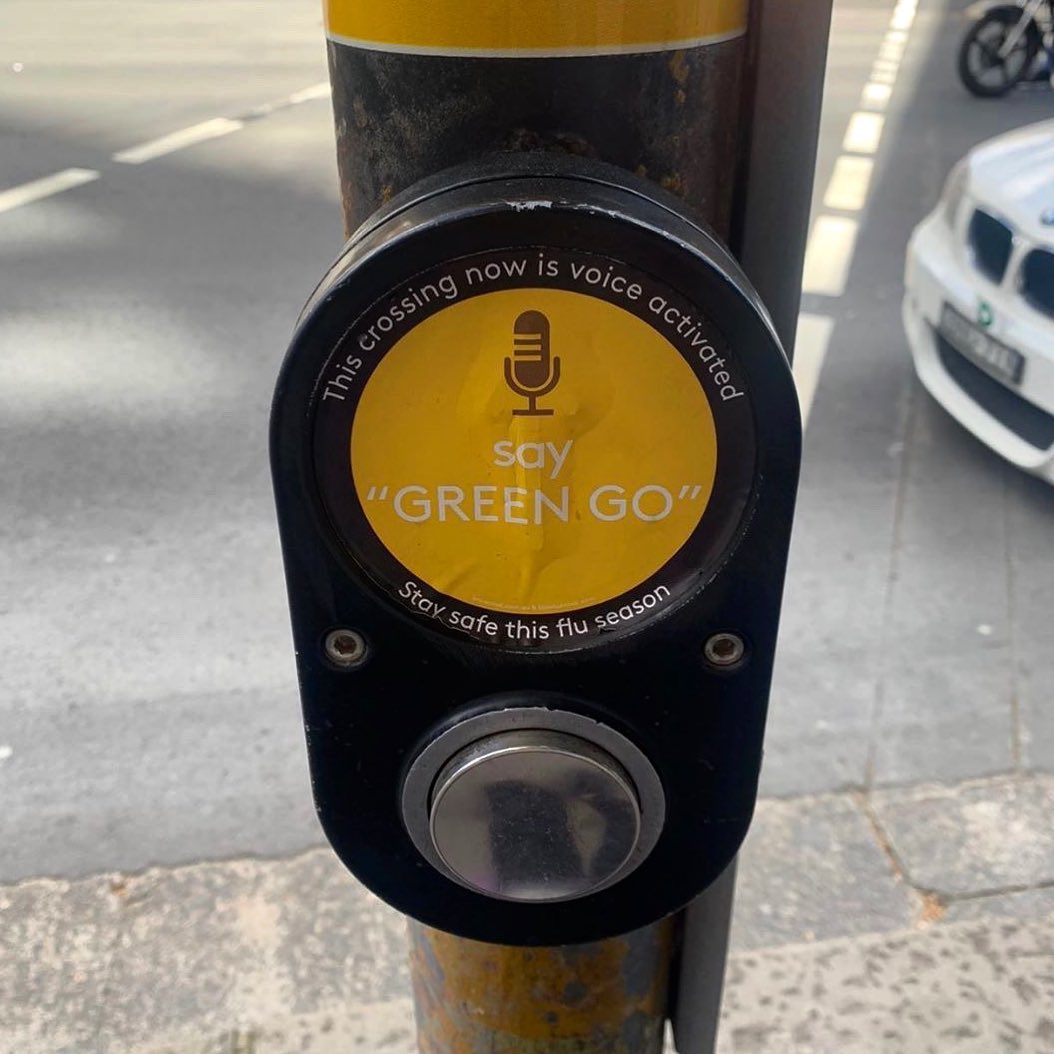 Instructional stickers
With so many changes afoot to improve health and safety measures, it can be difficult for the public to keep up. Use instructional stickers to help others understand exactly what to do when using certain facilities.

For example, this image features a sticker which tells the user that the road crossing is voice-activated to help prevent the transmission of bacteria through touching the button. You could also apply this to handwashing stations, automatic doors and other amenities.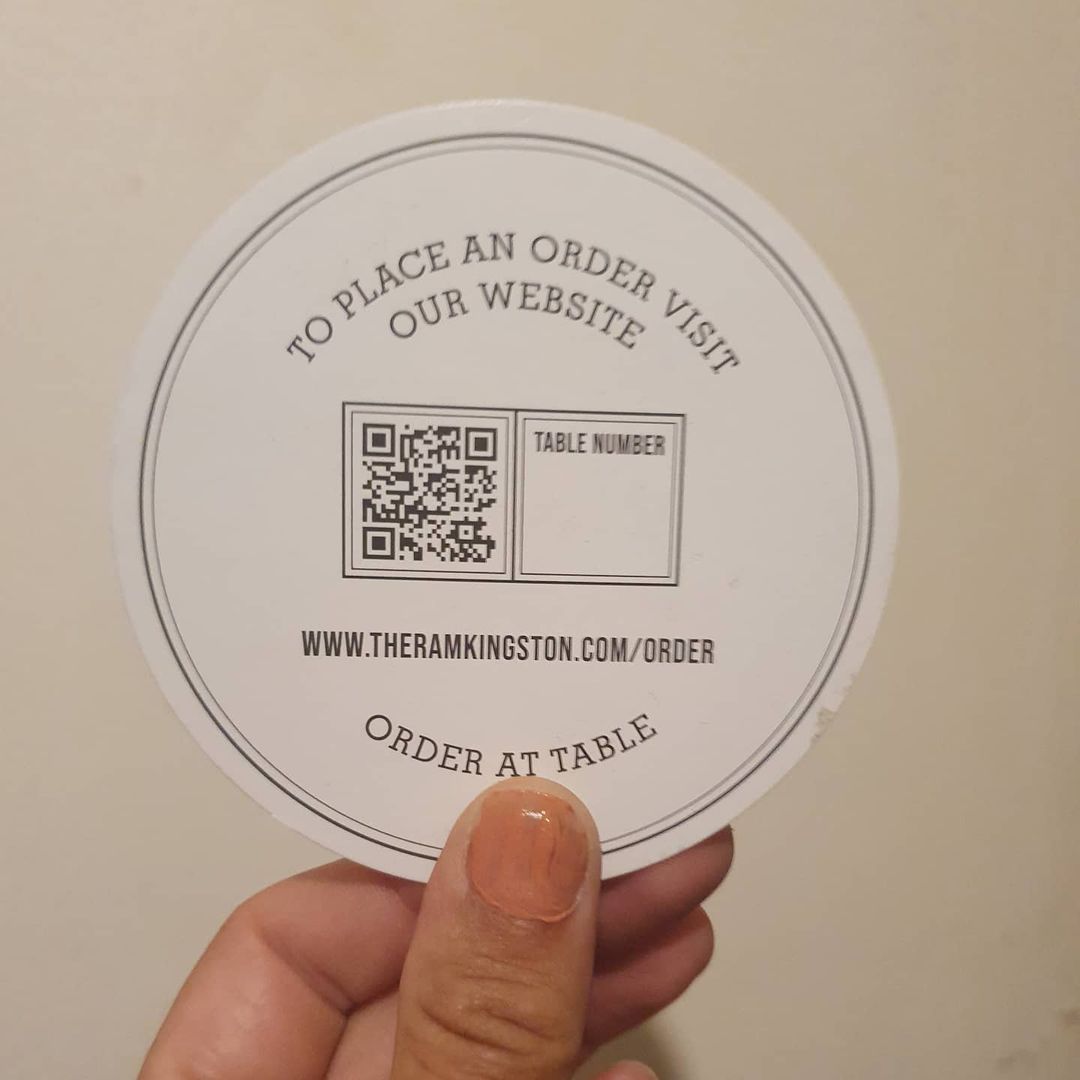 Creative QR codes

QR codes have had a resurgence in popularity, as many smartphones now enable users to find out more information about a place or company via a quick scan. The most prevalent QR code during the COVID-19 pandemic is the NHS Track & Trace code, which is present in restaurants, cafes, salons and other businesses across the UK.

However, you don't have to use the standard NHS format and branding in order to encourage patrons to scan the code. You can actually download your own code for your business and place it into a more creative design that suits your branding! Then, print it onto a sticker to place anywhere in your establishment.
Design your social distancing signage with Diginate
At Diginate, we have a range of sticker and poster options available to help make your business pandemic compliant, while retaining and emphasising your branding. We can print stickers up to a maximum width of 650mm and 1500mm, and posters up to a width of 2000mm and height of 1000mm for maximum impact.

Browse our products here.