The ultimate guide to selling your own posters and art prints online
June 24 in Design
It's 2021, and whilst cars, jewellery and well manicured pets remain popular there's one lifestyle accessory more desirable than any of these: a Side Hustle. Everyone's got one, and if you don't you're missing out.
Side hustles have truly blown up in the last year or two, and you can see why. Housebound due to the pandemic, and with the associated job losses and pay cuts looming it's easy to see why many have turned their energy and free time towards chasing that sweet sweet side hustle cheddar. 
Thanks to the internet it's easier than ever to set foot into the world of entrepreneurship, with potentially profitable niches up for grabs in any field that interests you. Whilst hospitality venues and other customer-facing businesses have suffered, people are spending more money than ever on their homes and interests.
One popular niche we see lots of at Diginate is art. This is unsurprising (we do print a lot of it) as selling posters and art online is a great gig with potentially big returns. Everyone with a blank wall is a potential customer, which equates to… well, almost everyone. There's also an endless amount of niches to explore. Love three-wheelers? Print posters of iconic three wheeled cars and sell them to that community. Whether you love gaming, poodles, punk rock or the cathedral city of Peterborough, there's somebody who will love your prints!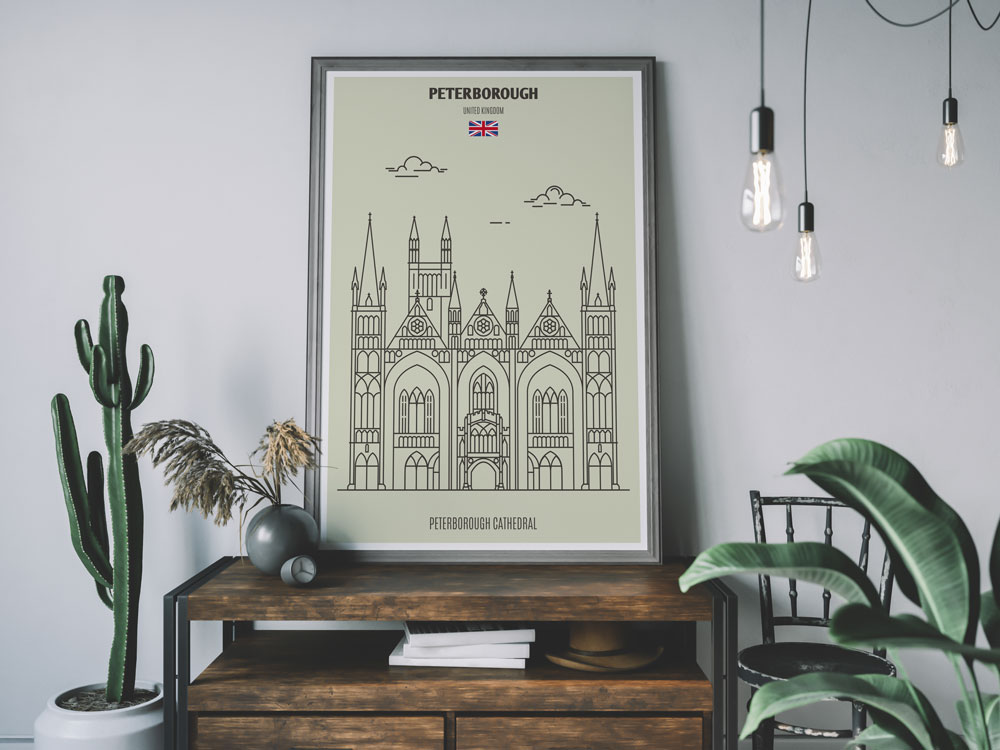 If an arty side hustle sounds like it would suit you here's our guide to getting started!
Step 1: You need designs. Get Some.
The first thing you're going to need is some designs. Fortunately, this can be achievable for little or no upfront cost. You'll always do better selling products you love, so if it's something you wouldn't put on your wall it's unlikely anyone else will!
Design it yourself
If you're artistically gifted then you'll be way ahead on this one. Stop reading, fire up Adobe Illustrator and we'll see you for Step 2.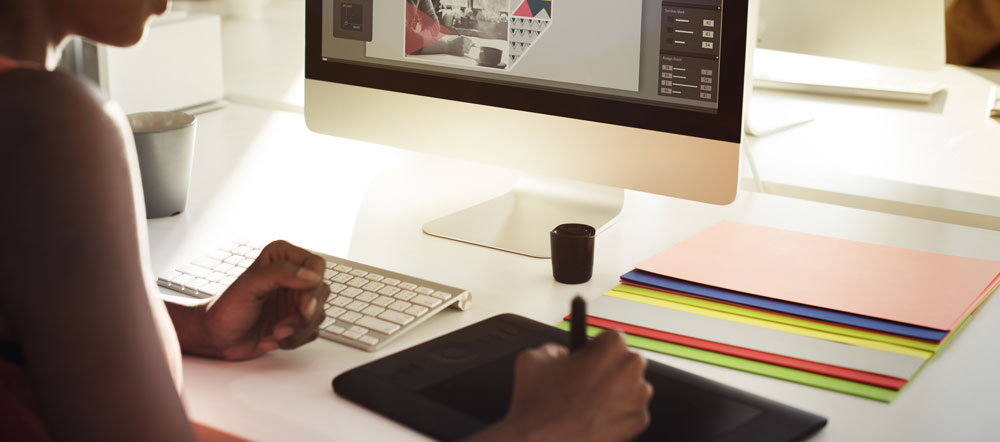 You may not be a graphic designer, but photography can be equally effective. If you have access to a digital SLR camera you can shoot high quality images perfect for reproducing as prints. Think about what your target market would like, and approach it creatively. Catch your local football stadium at sunrise, or shoot a montage of owners being dragged by their dogs on the beach.
Hire somebody
Got an idea for a perfect print that the community will love, but no time or artistic talent to realise it? Freelance platforms such as Fiverr have designers and illustrators waiting to bring your creative ideas to life for surprisingly little money. Make sure you choose a provider with a good portfolio of work, and good reviews. Communicate clearly with them as English may not be their native language, and provide lots of reference images demonstrating the style that you'd like. Like most things in life (not casinos) you get out what you put in, so the more time and effort you spend on the brief the more likely it is you'll receive exactly what you want.
Use copyright free imagery
There's a world of imagery available online that's free to use and distribute. We've covered a few options here in the past, but there's plenty more out there.
When sourcing free imagery it's critical to make sure the copyright status allows you to resell it – you don't want a lawsuit down the line, so be extra careful everything is above board.
Stock imagery
Stock imagery is a big business; there's multiple platforms offering literally millions of images for immediate download. Amongst the major players are Shutterstock, Adobe Stock and Dreamstime.
Most stock image libraries offer a range of licences, often including an option to resell prints of the work commercially. Adobe offer this option with their Extended Licences – it's typically around £50 per image, so you might only need to sell one or two prints to recoup your costs.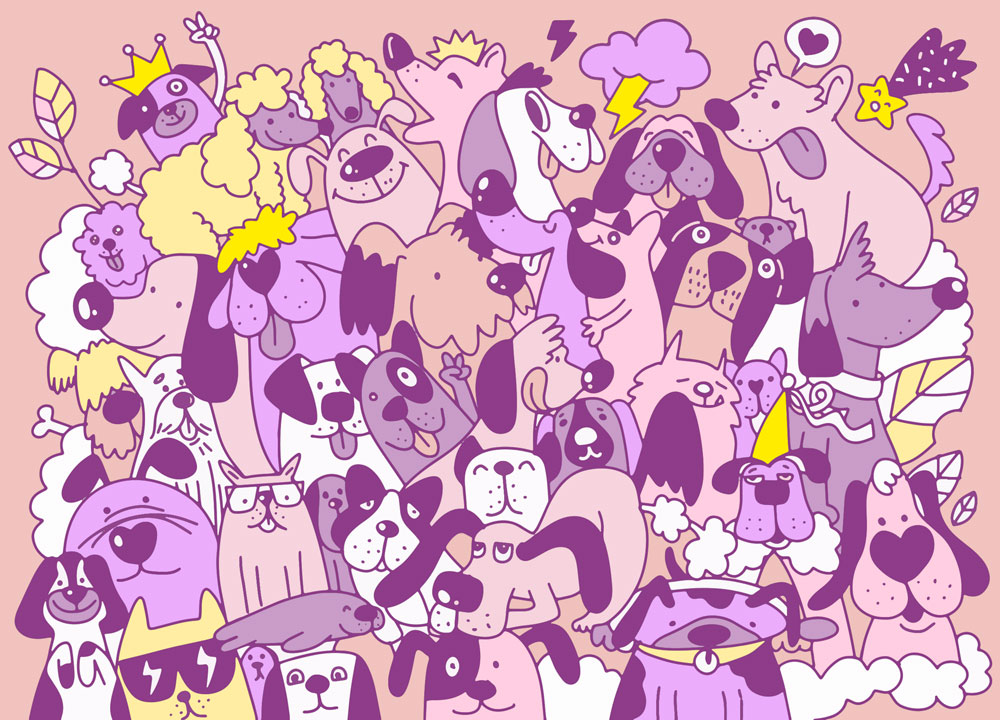 Contrary to the popular view, there's plenty of original, creative and high-quality imagery available on stock libraries – not just the classic 'stock imagery' weirdness. When searching for your perfect print try sorting by upload date, to skip the popular images determined by the algorithm and discover some more original content.
Personalisation
Personalised prints have become increasingly popular in recent years – you can find lots of examples on platforms such as Etsy and Not on the High Street.
Whether it's dog portraits, word clouds, personalised maps or commemorative text art for weddings and occasions, personalised prints make fantastic gifts.
Step 2: Refine your Product
Now you have some designs or an idea for a range of eye-catching personalised prints it's time to decide on your format. Whilst some online sales platforms offer more or less infinite flexibility in regards to your finished product others are more limiting, so it's a good idea to consider what you would like to sell, and how much day to day involvement you want in the order processing and production of your prints.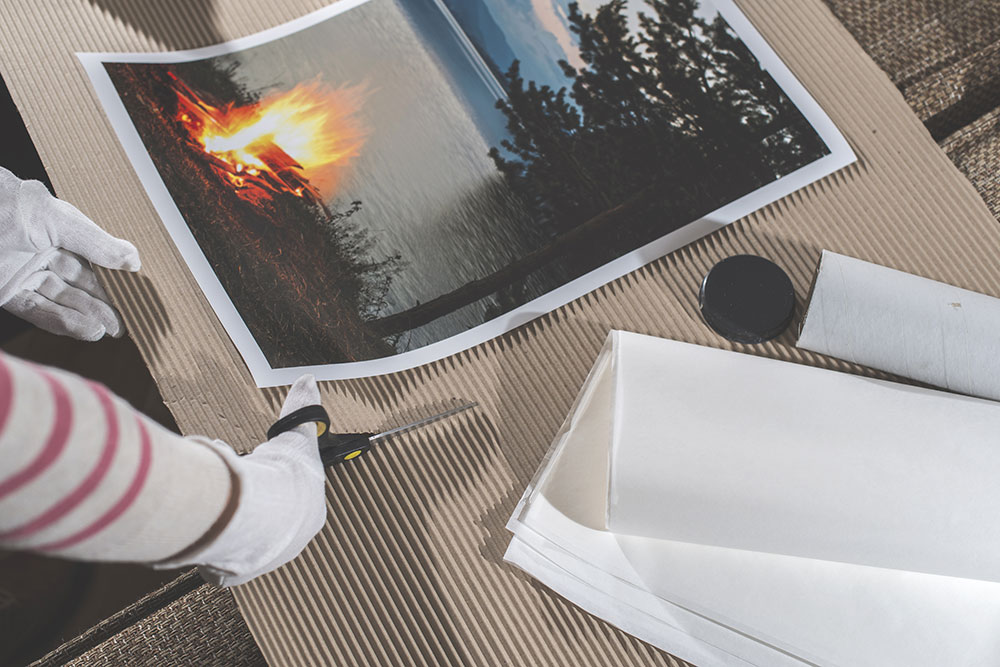 Posters and art prints are most commonly printed and shipped in tubes – super simple, whilst framed prints will fit into a variety of box sizes, or order something that fits perfectly via a company like custombox.uk. But you can add value by framing, hand personalising, or shipping in ultra-luxe personalised packaging. Whilst this will take time it might do wonders to your storefront appeal.
Step 3: Sell some prints
So you have your designs and your finished product. Now it's time to get selling. There's a baffling range of options, all with their own pros and cons. Here's a few to consider
Your own store
Setting up your own e-commerce store is super easy, and doesn't require any coding or technical wizardry – just a little time. The most popular store builder is the ubiquitous Shopify, but Squarespace and Wix also have ecommerce functionality and come in a little cheaper than Shopify's $29 per month. Whilst these online store builders represent great value as compared to building, hosting and updating your own bespoke store you'll need to shift a few prints a month to cover the cost.
There's lots of benefits to setting up your own store; you can set your pricing and won't be giving a cut of your profits away to a third party platform. You are also in total control of your fulfilment, meaning you can order in bulk from your supplier (e.g. Diginate!), ship items yourself, and take advantage of lower unit costs. Here at Diginate we ship all posters and art prints in unbranded packaging, so we can fulfil your orders for you directly – just pop in your customers shipping address at checkout.
The biggest challenge with setting up your own store is getting traffic. Without the benefit of a third party platform pedalling your wares for you you'll need to hit social media and work on your search rankings to get the ball rolling.
Etsy and Not on the High Street
Etsy is an enduringly popular marketplace for handmade gifts. The array of products on offer, and the community that surrounds it is massive so there's no shortage of potential customers. Etsy requires you to disclose any third parties involved in the manufacturer of your products, but how strictly this is adhered to by the Etsy seller community is up for debate.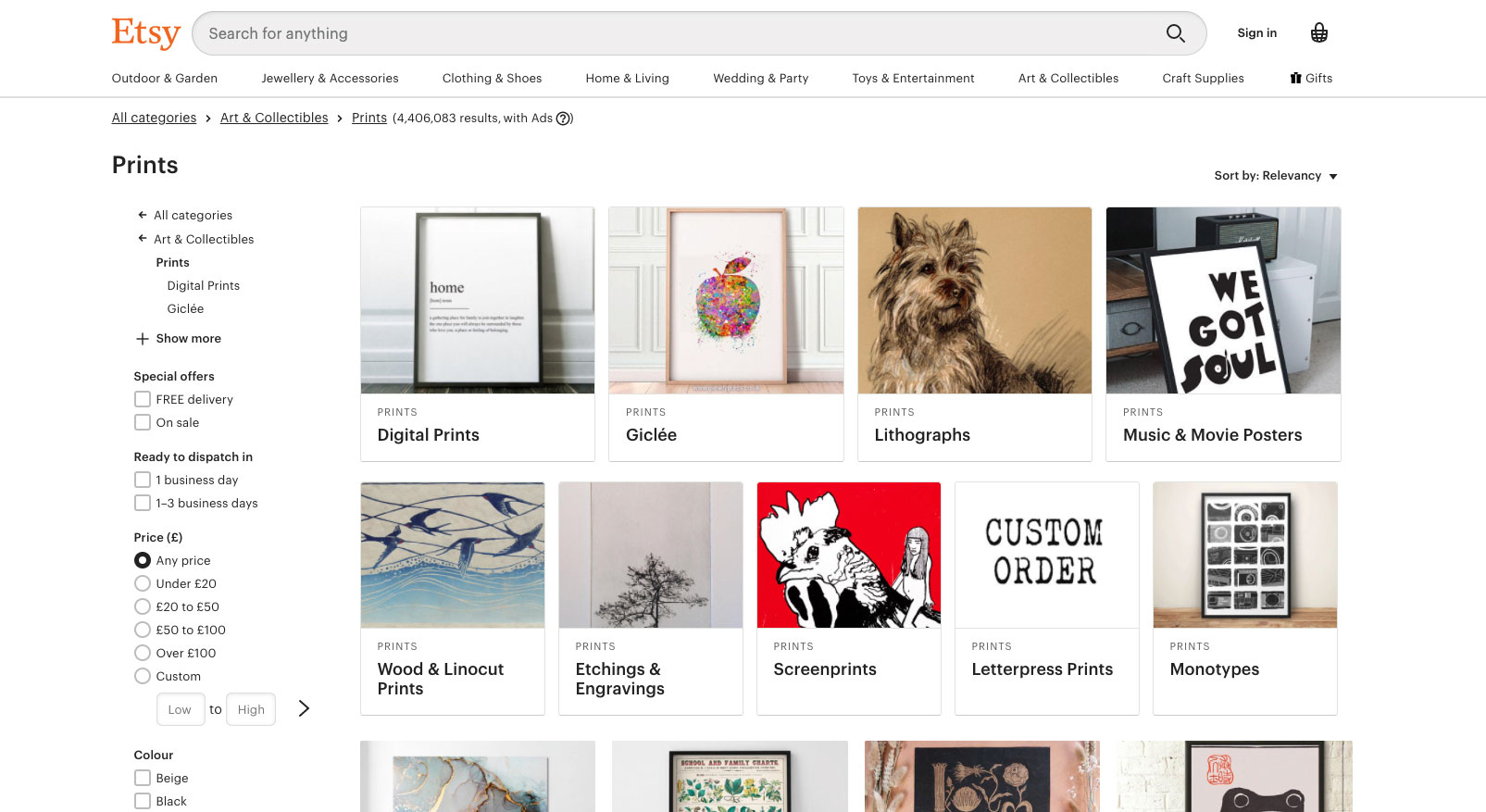 Another advantage of Etsy is the built in ad campaigns, similar to sponsored listings on Ebay and Amazon. That means for a small outlay you can skip the algorithm and get your products in front of potential customers – a great way to measure the demand for your prints before you go all in on stock and a range of designs.
Not on the High Street is another marketplace which is popular with designers and artists, with a whole category devoted to prints. Personalised prints are a hot selling item on NOTHS, so if that's an area you're interested in it's well worth exploring.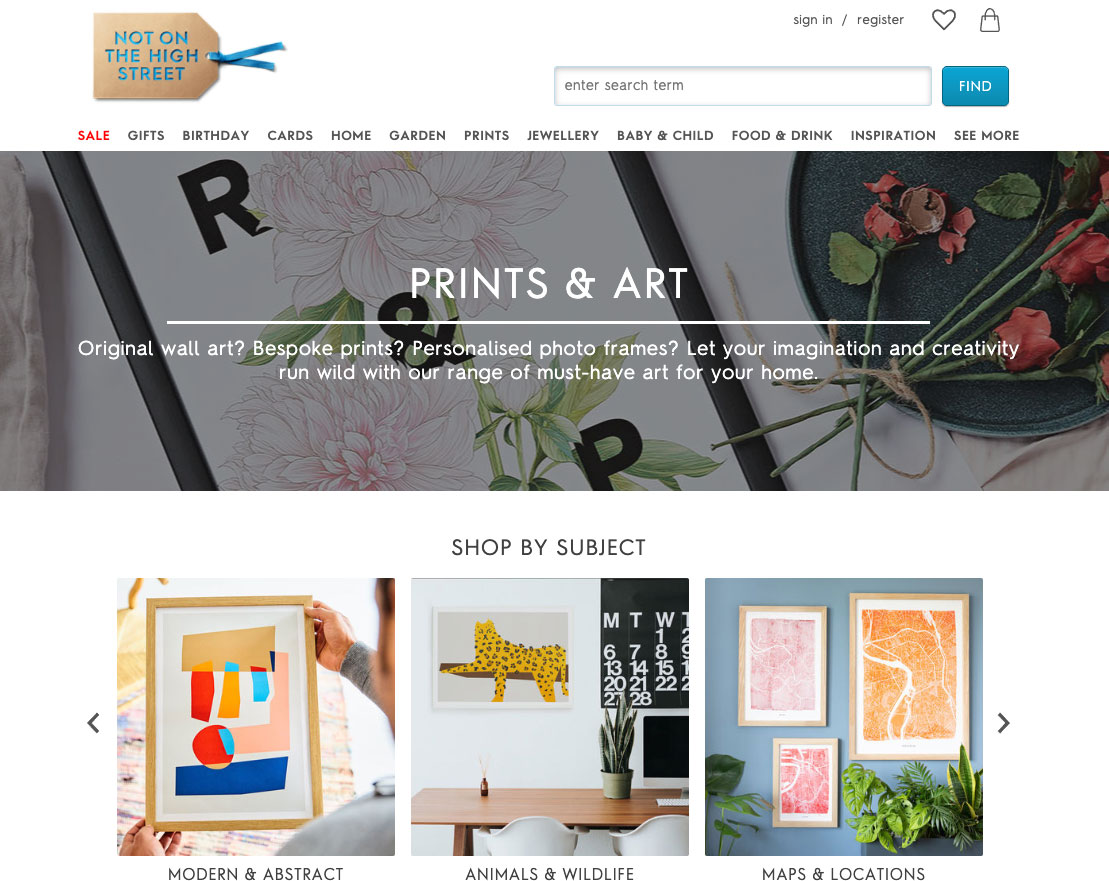 Unlike Etsy, Not on the High street is a curated platform, which means you have to apply to sell with them. There's a one-off joining fee (currently £199), so it's worth testing your designs on Etsy before taking the plunge. They will also take a commission of 25% on every sale. To increase your chances of acceptance to NOTHS you'll need a strong, consistent brand, quality original material and nice photos of your prints to list on the site.
Amazon
Amazon is the worlds biggest online retailer. Why wouldn't you want to join the party? 
Well, there's a few reasons, but if you're willing to put in the legwork Amazon could be a great source of long term income. 
Becoming an Amazon seller involves jumping through a number of hoops – you'll need to provide several forms of ID to verify yourself, and often attend an online face-to-face interview to confirm your identity. 
Once verified, the Amazon Seller Central dashboard is clunky and confusing compared to the more user-friendly control panels of Etsy and Shopify, but once you figure it out there's a lot of functionality to take advantage of, including promotions and sponsored listings.
Amazon offers two fulfillment options – Fulfillment by Merchant (FBM) and Fulfillment by Amazon (FBA). FBM routes all orders and customer service requests to you, and you fulfil orders directly. This is a great option for starting out, but make sure you hit all the relevant time deadlines or Amazon may penalise your listing or close your account. After a number of successful transactions Jeff will reward you with a Buy Now button on your listing, which is crucial in boosting your sales.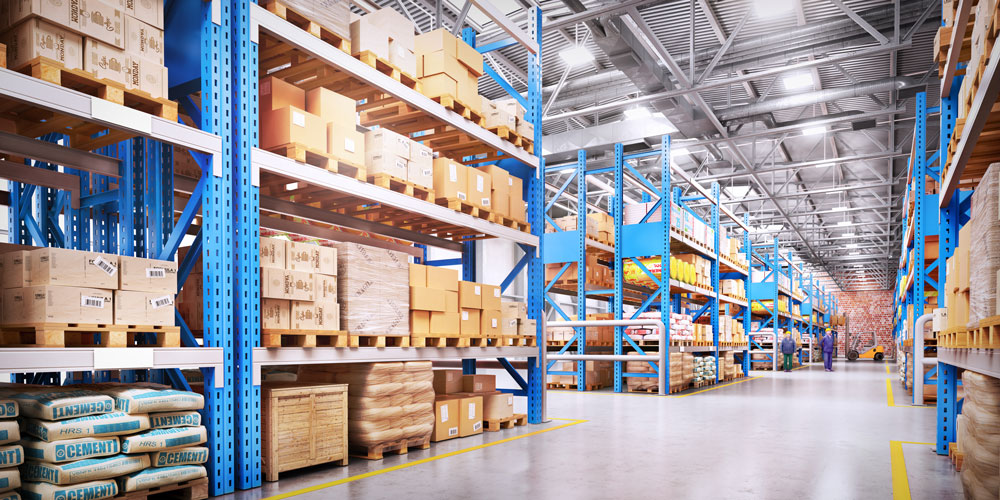 FBA is where selling on Amazon becomes really powerful. Ship your prints directly to the Amazon warehouse and they will handle all the shipping and customer service. This will qualify your products for Amazon Prime, further boosting your sales. When your stock runs low just ship more inventory to the warehouse, and relax whilst Amazon does the hard work for you. You can even set up FBA in other countries and territories; just ship your prints to the corresponding warehouse and Amazon will do the rest.
Redbubble/Society6
If you don't want the hassle of any kind of order fulfilment a print on demand platform such as Redbubble or Society6 might be for you. The premise is simple – just upload your designs and set your pricing. When a customer orders one of your designs it will be printed by the platform in house and shipped directly to your customer. You'll receive your cut of the order according to the margin you've specified.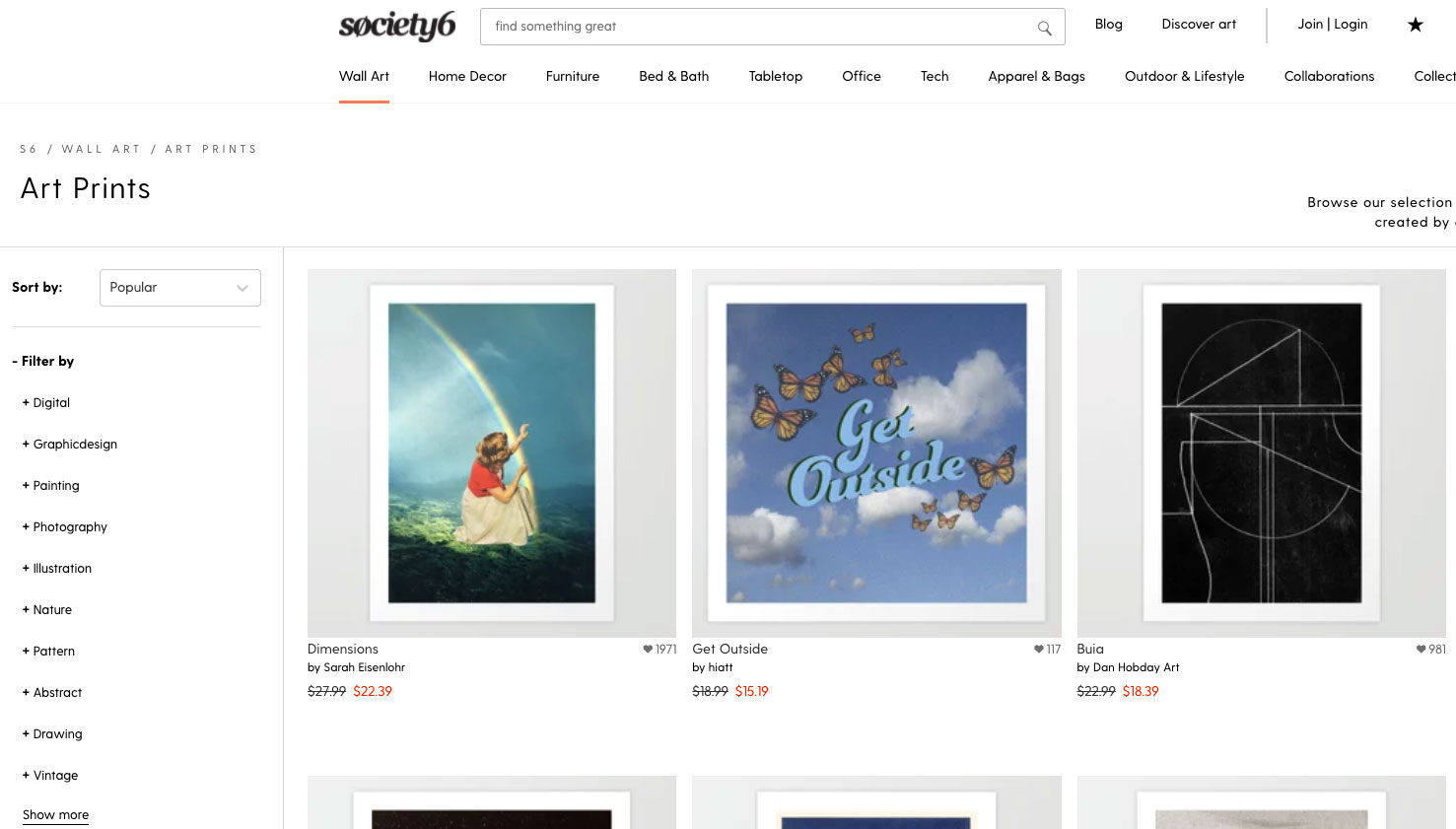 Using a print on demand platform is super convenient, but has its downsides. Your sales will not be as profitable as a large percentage of any sale will go directly to the provider, and you have limited control in terms of sizes, papers, print quality. No personalisation is possible either.
In the real world
It's easy to forget there's a world outside your front door, which is gradually returning to some kind of normality. If you've got a great range of prints why not book a pitch at a craft market – you'll be guaranteed to meet some interesting people, make some useful contacts, and hopefully sell some prints. Most of all, it's likely to be great fun. 
If you have a local cafe or bookstore why not try and display your prints there as well. You might be surprised how many you sell.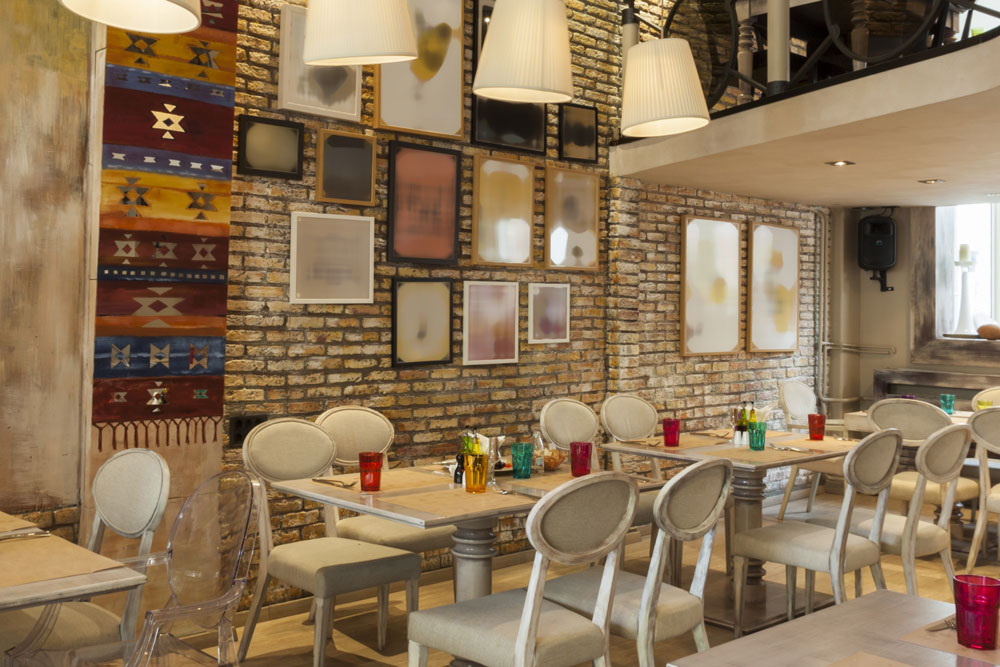 Like any business the amount of success you achieve will be dependent on the effort you put in. Selling your own prints can be a fun and lucrative endeavour though, so why not give it a go. If you'd like to discuss printing posters or art prints at Diginate just get in touch – we'll be happy to help.